GRACE AND CLASS
GRACE AND CLASS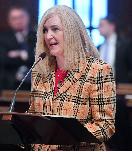 Politicians are generally regarded as a suspect breed, and rightly so. Our Michigan legislature can seem a never-ending sitcom of "Lawmakers Behaving Badly." But when a lawmaker behaves with quiet courage, calm dignity, and a ferocious devotion to duty, it barely gets a mention. That's why we need to take a minute and talk about Andrea Schroeder.
State Representative Andrea Schroeder died October 27th, this year. The cause was stomach cancer. She was 57 years old, married, mother of three, in her second term. There was never any hint of notoriety or scandal about her; just a quiet, competent, hard-working member of the Legislature.
She was not flashy. I met her two or three times, and she was quiet and dignified—not the kind of extrovert handshake politico that's your best buddy right away. She always seemed somewhat reserved. And now I know why: she had terminal cancer. A fine tribute from her friend and campaign consultant Steve Mitchell tells the story:
"Just a week after she won her first primary election in August 2018, she insisted we meet in person. We had just met two days earlier, and I didn't understand why she wanted to meet again so soon. We talked almost daily by phone.
I moved my schedule around and we met at a restaurant at Somerset Mall. It was there she told me she had been diagnosed with a rare, deadly form of cancer. I was stunned. But, it was not a time at which we could commiserate, we had too many important decisions. We both understood that. The prognosis was dire, but she was going to fight it."
And fight it she did. She ran a hard, competitive election, won, and took her seat in the Michigan House of Representatives. Now let me tell you a little bit about serving as a state Rep. It's a tough, grueling schedule. There are long hours and endless work in Lansing, long hours and endless work at home, and long drives in between. It takes you away from your family, and it's physically punishing, even for folks in good health enjoying every minute.
For someone in fragile health to begin with, the job can be a killer. In my six years in Lansing, I served with three people who died in office: Aldo Vagnozzi, Mike Simpson, and Kate Ebli who left office and died three days later. All had health issues, and all made the same choice that Rep. Schroeder made.
What would you do it you found you had little time to live? Would you make a bucket list, go on trips, cocoon with your family? For Andrea Schroeder, the choice was to continue a life of service and spend her last days quietly serving her state and community. Every late night/early morning Session that provokes irritation and jokes in most Reps, is a torturous physical marathon. Every bit of tactical delay, each bloviating speech, is a precious minute off a limited, very finite amount of time in the personal hourglass.
To devote what you know are the final days of your life to public service takes a special kind of character, a devotion to duty and honor. Andrea Schroeder chose to spend her days with grace and class. For that she uplifted our People's House. When all too often the Capitol seems a tawdry stage for Legislators Behaving Badly, Andrea Schroeder left a legacy that ennobled our institutions and showed our leaders can be, and often are, people to look up to.