THE GOOD GUY TEST
THE GOOD GUY TEST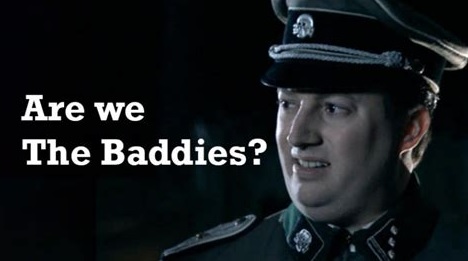 "Are we the baddies?" That's the famous line from the classic Mitchell and Webb video about two German soldiers on the Eastern Front. Preparing for a Russian attack, one German asks the other "are we the baddies?" You see, their uniforms all have skulls. Now, just wearing an SS uniform should be a clue you're not the Good Guys, but it's still a funny bit.
Question: are you one of the Good Guys?
Everybody will answer "YES." Very few people really think they're the baddies. Almost all of the evil of the world is done by people who think they're advancing a good cause. Lenin, Hitler, Pol Pot, and the greatest murderer of them all: Mao, all thought they making the world a better place by slaughtering millions. (Hard to say with Stalin; whether he really believed in anything other than his own power.) The 100 million dead Victims of Communism are silent witnesses of idealism warped to evil.
Are you a Good Guy or a Bad Guy? Take the Good Guy Test. Ready?
THE GOOD GUY TEST
QUESTION ONE
Can you honestly say: "I DEPLORE WHAT YOU SAY BUT I'LL DEFEND YOUR RIGHT TO SAY IT."
YES or NO.
QUESTION TWO
Do you fundamentally see people as:
A) Individuals or B) Members of a collective group?
QUESTION THREE
Do the rightness and urgency of your ends justify any means necessary?
YES or NO
QUESTION FOUR
Is all your opposition due to stupidity, ignorance and/or evil?
YES or NO
QUESTION FIVE
Would the world be a better place if all those who opposed you simply disappeared?
YES or NO?
                RESULTS.  If you answered NO on Q1, B) on Q2, and YES to Qs 3, 4, & 5: You are not one of the Good Guys. You're a collectivist and an authoritarian. You're ready to break those eggs to get your omelet, and the eggs are human beings. You are one of the Bad Guys. Read the history of the 20th Century and you'll watch yourself stuffing people into cattle cars.
GOOD NEWS: there's always room for change. Start by reading this:
"We hold these truths to be self-evident, that all people are created equal, that they are endowed by their Creator with certain unalienable Rights, that among these are Life, Liberty and the pursuit of Happiness. That to secure these rights, Governments are instituted among people, deriving their just powers from the consent of the governed…"
            That's not the exact quote, and there's still more, but it will do. Raise your right hand, agree to that, and you'll be one of the Good Guys. Not perfect, but Good, and Good is good enough for starters.