UPDATE: Dams Break, Hillary Goes Nolo, Last Collusion Hoax Puzzle Falls in Place.
UPDATE: Dams Break, Hillary Goes Nolo, Last Collusion Hoax Puzzle Falls in Place.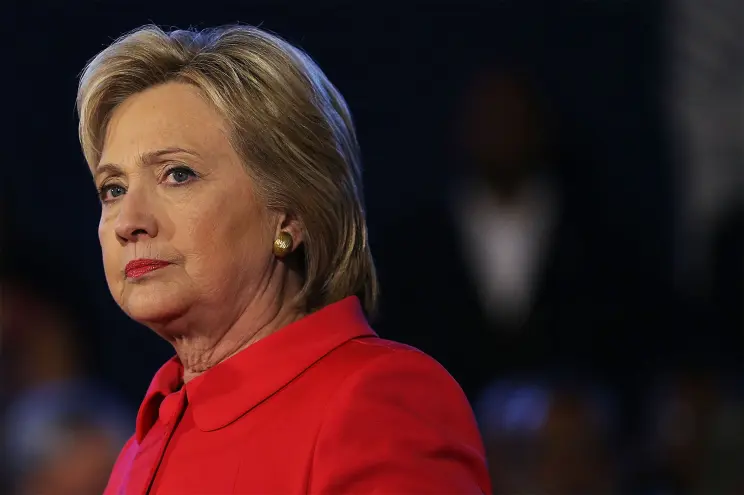 First off: We know how the Steele Dossier and Russia-Collusion story got fabricated and put out to the world. PRODUCT LIABILITY: Trump-Russia Explained, Hunter's Laptop, and What To Do. – chuckmoss.com
But this week we finally got the pieces of the puzzle that connect the Hillary Clinton Campaign to the whole affair. Both the Hillary Campaign and the Democratic National Committee (DNC) are not contesting a Federal election Commission fine of $8K and $150K respectively for lying about the origins of the Steele Dossier. This is consistent with the Clinton practice of fighting and denying charges, then abruptly pleading No Contest—like Bill C. did to Perjury and Obstruction of Justice when President.
From the New York Post, which has provided the best and most consistent overage of this whole matter.
"The Federal Election Commission has fined both Hillary Clinton's 2016 presidential campaign and the Democratic National Committee for lying about how they spent money used to fund the now-debunked Steele dossier on former President Donald Trump.
"The Clinton campaign and the DNC will be forced to pay $8,000 and $105,000 respectively for mislabeling payments that ultimately went to Fusion GPS, the consulting firm that commissioned the dossier, according to FEC documents viewed by the Post." Clinton campaign, DNC fined by FEC for lying about Steele dossier payments (nypost.com)
The role of longtime Clinton operative and now-former attorney for the Democratic party powerhouse law firm Perkins-Coie, Charles Dolan, has emerged as crucial. Clinton crony Charles H. Dolan Jr. takes center stage in latest Durham indictment (nypost.com)
HOW IT WORKED
OK. So, here's how it worked. It's a complex scheme, but worth unravelling.
–Hillary Clinton Campaign hires Perkins-Coie law firm.
–Perkins Coie hires Opposition Research/Campaign Operations firm Fusion GPS.
–Fusion GPS Hires Christopher Steele.
Now, the Dossier itself:
–Longtime Clinton operative Charles Dolan feeds anti-Trump 'allegations' to Igor Danchenko. (now indicted by Durham Special Prosecutor probe.)
–Danchenko gives 'allegations' to Steele.
–Danchenko gives "allegations" to Steele, who creates the Dossier from the 'allegations.'
–Steele gives the dossier to now-former Perkins-Coie attorney Michael Sussmann (Sussmann has been indicted by the Durham probe for lying about tipping the FBI about the dossier.)
–Sussmann gives the dossier to the FBI, not disclosing that he's connected with the Hillary campaign. Michael Sussmann indicted, pleads not guilty in alleged FBI lie (nypost.com)
— Steele also gives dossier to Senator John McCain & McCain aide David Kramer.
–McCain turns Dossier over to the FBI. Director Comey runs with it, investigating GOP Presidential nominee Donald Trump.
–Sussmann lies to Judge in obtaining re-authorization of wiretaps on Trump campaign official Carter Page.
–David Kramer leaks the Dossier all over, to the Wall Street Journal, the Washington Post, CNN, NPR, McClatchy news service, and to Buzzfeed. David Kramer spread Steele dossier around Washington during Trump transition – Washington Times
–Buzzfeed, using the hook that the FBI is investigating, shouts it to the whole media world.
And the rest is history.
SO NOW WHAT?
So now we know that the rock upon which the whole Trump-Russia Collusion narrative and subsequent Impeachments, etc. was built is false, a dirty trick of the Hillary Clinton campaign. Now what? Well, there are still media and Dem Party soldiers who doggedly hold these lines, despite their collapse. And there are media sources who bought and shouted this dirty trick for years.
Either these sources 'fess up, admit they were wrong, retract the stories, apologize very publicly on Lead Story Page One like they howled forth the allegations—or we should just pass 'em by, turn 'em off, declare them dead-to-us as we would any other unrepentant seller of a defective product.